The Royal Society of New South Wales latest news:
After careful consideration and in line with evolving advice from Commonwealth and State health authorities regarding the COVID-19 virus, the Royal Society of New South Wales has decided to suspend face-to-face meeting for the immediate future. Options to provide a program of events through video streaming are underway.

YouTube and The Royal Society of New South Wales
At the tender age of 199, the Royal Society of New South Wales has launched their own YouTube Channel to make virtual events, lectures and performances freely available to the public, including:
Architecture and the Cultivation of Vitality
Professor Pia Ednie-Brown School, Architecture & Built Environment, the University of Newcastle on how the spaces we create affect our well-being, our creativity and cultural vitality
Why Art Matters in Times of Crisis
Elizabeth Ann Macgregor – Director, Museum of Contemporary Art, Sydney discussed the interrelationship of science and creativity and what role museums and galleries can play in these unsettling times where social distancing is the norm.
Evidence and Education in a Post-Truth, Post-COVID World
Professor Brian Schmidt – Vice-Chancellor of Australian National University and Nobel Laureate in Physics delivers the Distinguished Fellow's Lecture at the RSNSW (Virtual) Annual Dinner 2020. 
Drinking for three: Mother, baby and society
Professor Elizabeth Elliott discusses fetal alcohol spectrum disorder (FASD) and the current state of play in Australia as part of her Open Lecture at the Societies 1283rd Ordinary General Meeting.
COVID-19 and confusion: the story of a nasty but nice viral receptor
A discussion of Recombinant ACE2 and SARS-CoV-2 presented at the Society's Hunter Branch by Emeritus Professor Eugenie Lumber.
Ideas@theHouse: 21 May 2020 – Ten: the Mapping of Colonial Australia
Emeritus Professor Robert Clancy highlights a small part of cartographic history – the colonial period from 1788 to 1901. Telling a story through maps and records, covering a century where a jail of 1000 souls became an independent nation with one of the highest standards of living in the world. 
Speaking of Music … The Magic of Solo Violin
A celebration of the 300th anniversary of Johann Sebastian Bach's solo violin pieces with a lecture by Dr David Hush FRSN and performance by the award-winning violinist Anna Da Silva Chen.
RSNSW and the Four Academies Forum 2019: Making SPACE for Australia
Lectures from the 2019 forum Making SPACE for Australia held in conjunction with the four Learned Academies, celebrating our great interest in the heavens, and the place of humanity in the cosmos. 
New editions of the Society's Journal and Bulletin: August 2020
The Society is pleased to advise that the latest issues of the Journal and Proceedings vol. 153-1 and the Bulletin vol. 443 have just been published and are now available on the website. 
The principal content of this issue of the Journal is the 2019 RSNSW and Four Academies Forum: Making SPACE for Australia (including links to YouTube presentations), with 17 contributions from experts in the field. This is particularly relevant after the recent splash-down (first since 1975) of the private SpaceX vehicle returning NASA astronauts from the International Space Station…read more. 
Society Fellow awarded the London Royal Society Royal Medal
The Royal Society of NSW is delighted to learn that one of its Fellows, Emeritus Professor Herbert Huppert FRS FRSN, has just been awarded the 2020 Royal Medal for Physical Sciences. The Royal Society, London announced the honour.
The Royal Medals are awarded on behalf of the Queen and have been issued annually since 1825. The Royal Societies of Australia extend our warmest congratulations to Professor Huppert on this recognition of his outstanding career achievements….read more. 
Click for more news from the Royal Society of New South Wales
The Royal Society of Victoria latest news:
After careful consideration and in line with evolving advice from Commonwealth and State health authorities regarding the COVID-19 virus, the Royal Society of Victoria has decided that all meetings and lectures will be held online to ensure the safety of members, tenants, clients, guests and staff. The Society is working with scheduled speakers and public lectures will be live streamed. 
From the President: The RSV's response to COVID-19
The President and Council of the Royal Society of Victoria have issued an update on the Societies upcoming plans in as affected by the COVID-19 pandemic…read more.
The The RSV building is closed until 30 June (subject to review)
As the COVID-19 situation continues to evolve globally, the Royal Society of Victoria wishes to provide their members, tenants, partners and clients with an update on the steps taken to minimise disruption to operations and enduring mission to promote science. At this time a decision has been made to close our building in the Melbourne CBD. …read more.
The falling stars hold a significant place in the traditions of Indigenous cultures around the world. They are embedded into orality – in story, song, dance, and material culture. 
Dr Tyseon Yunkaporta, in his presentation From Wolfe Creek to Tunguska: Meteorites in Cultural Traditions, spoke of a dynamic and diverse universe. Tyson belongs to the Apalech Clan in far north Queensland and is a senior lecturer in Indigenous Knowledges at Deakin University. 
Indigenous knowledge is a dialogue – it the yarns, carvings, songs, and dances that change depending on the relationship of the people who are sharing it. With so many cultures, stories, and points of view, stories of the sky change according to where you stand truth is not an empirical thing, but an aggregate of stories and diversity…read more. 
"Smoke never has just a minimal impact," says Dr Martin Cope, Principal Research Scientist at the CSIRO Climate Science Centre. In a new article following a presentation on 26 March, 2020 titled "AQFx – An Australian Smoke Forecasting System" by organic chemist Dr Martin Cope, Principal Research Scientist with the CSIRO's Climate Science Centre, to an ordinary meeting of the Royal Society of Victoria via Zoom…read more. 
The Royal Society of Queensland latest news:
Native vegetation management
In April 2020 Royal Society of Queensland members Philippa England and Nelson Quinn of Griffith University's Law School trialled an online survey with a small number of stakeholders interested in the operation of Queensland's Vegetation Management Act. Respondents were mostly current or previous landholders but other interested persons were invited to respond as well. Respondents were asked to comment on the following topics:
Mapping
Impact on land management
Authorised clearing activities including the codes
Area management plans
Economic impacts
Conservation areas on your land
Other comments; and comparisons with New South Wales.
A Discussion Paper has been published.
Conservation covenants
Royal Society of Queensland embers Philippa England and Nelson Quinn of Griffith University's Law School are undertaking project-driven research on the operation of the Vegetation Management Act in Queensland. 
The project aims to identify opportunities for incremental improvements to the legislation with a view to modernising its approach and aligning its goals and functions with ongoing developments in, for instance, markets for natural capital and ecosystem services. Pursuant to this research, they have compiled a table of some existing voluntary programs and schemes which support private landholders who wish to dedicate or manage some of their lands for conservation purposes. The information is limited to key programs operating in Queensland, New South Wales and at the Commonwealth level. A good source of additional information, covering all Australian jurisdictions, is Australia's Nature Hub . This platform provides an online hub for funding programs and schemes of interest.
Planning in Queensland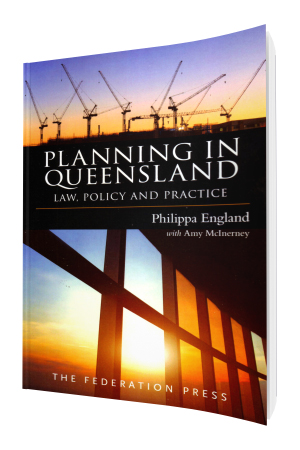 Royal Society of Queensland member Dr Philippa England has published a new edition of her landmark book Planning in Queensland: Law, Policy and Practice with Amy McInerney.
The book takes a fresh look at the operation of planning law in Queensland, incorporating insights based on current debates and reforms to the relevant legislation. As with its predecessors, this new text explains the main features of Queensland's principal planning statute, now the Planning Act 2016, and brings the features of this highly technical statute to life with a variety of case studies drawn from planning documents and legal sources. More details are available on the publisher's website.
Rangelands Policy Dialogue: 1 – 2 July 2019

An interactive workshop held in Brisbane on 1 and 2 July 2019 brought together people with knowledge of rural and regional Queensland to craft a strategy that can lead the pastoral industry to a future that is sustainably profitable and environmentally sustainable. Drought policy, stewardship incentives, climate change and many other themes were covered. This workshop, co-organised with AgForce, representing broadacre rural industry and NRM Regions Queensland, representing the 12 regional NRM bodies, aimed to recalibrate policy for Queensland's pastoral estate towards sustainable prosperity and environmental sustainability in an era of farm debt and climate change. Unlike usual conferences, most of the time was given over to discussion. Short provocations and context-setting comments were invited from a number of expert opinion leaders. The end output sought was a "Rangelands Roadmap" declaration that, after ratification, will be presented to government and business leaders at a subsequent event. Details are on the Society's Rangelands Policy Dialogue page.
Click for more news from the Royal Society of Queensland
Other Australian Royal Societies:
The Royal Society of Tasmania
The Royal Society of South Australia
The Royal Society of Western Australia